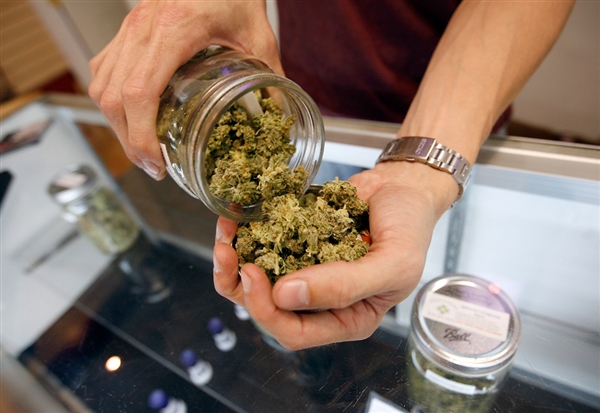 It seems that the City of Los Angeles is cracking down on medical marijuana' shops in and around the County of Los Angeles. A new ordinance that is slated to take effect could shut down almost half of the reported 900 plus medical marijuana dispensing collectives' as they are called.
It seems that this measure, though passed some months back is finally being put to use and being enforced in and around the City of Los Angeles. Medical marijuana shops that were allowed to operate in the past, some by skirting legal zoning grey areas, or legal loop-holes will be subject to closure. What in effect is happening is the enforcement of Measure E an initiative that was passed by City of Los Angeles voters on May 21, 2013. This ordinance would have would have banned all City of Los Angeles medical marijuana dispensaries except those shops that were registered before 2007.
There seems to be some confusion between the two Measures D, and Measure E since both were voted on by Los Angeles City residents in relation to medical marijuana dispensaries. What has been reported in the news, depending on where one is reading or looking, can be somewhat confusing as there is an overlap between the Measures D & E.
Essentially the City of Los Angeles is looking to shut down all but a few medical marijuana dispensaries, this being confirmed by a list that was generated by officials, which whittles down the number of shops from the approximate 900 plus to only 134. Most notably missing from the list is the aptly named Timothy Leary Memorial Dispensary located in North Hollywood. An attorney representing the Timothy Leary Dispensary and one other has threatened to sue the Los Angeles City Council as a result of their clients businesses being noticeable absent from the exemption list, saying his clients are legally entitled to remain open and in business.
One noticeable new tactic that is being unveiled is the pressure being put on landlords and property owners to evict tenants who are using their rented or leased space as medical marijuana dispensaries. Whether these evictions and closures will stand up in court is anybody's call. What is clear is that the City of Los Angeles is clearly on a mission to send a message to medical marijuana establishments that the times are changing.
Interesting that other states, most notably Colorado while reaping in billions of tax revenue from the sale of medical marijuana, though making changes to their existing laws and ordinances, are not making sweeping changes such as those happening right now in the City of Los Angeles. Perhaps the Los Angeles City Council should make it a point to discuss these issues with their counterparts in Colorado and formulate a plan on how to deal with the Billion-Dollar medical marijuana industry that they are seemingly intent on giving the death blow to, effectively cutting their own hands off monies which the City of Los Angeles and certainly the State of California as a whole, shouldn't be treating as noxious weeds in their fiscal garden.